Hello, thank you for shopping at Labutori! We really appreciate the interest you have taken in our little store.
---
Table of contents
1) Shipping and Handling
2) Sale Policies
3) Wholesale Inquiries
We Ship out every alternate week of the month!
Our usual shipping day will be every alternate Thursday/Friday.
Processing times and or delays will be updated on the home page when applicable!
Thank you for being patient with your orders!
‣We Post out from Singapore! (South east Asia)
‣We are not responsible for any additional VAT and Tax charges within your country! (EU and UK buyers kindly take note of this! from July 2021 onwards)
Below are the estimated delivery timings for different countries/regions
Please note that these are only estimated and can differ based on season/ new global events/ local post .
[USA] 3 – 7 weeks
[Canada] 4 – 18 weeks
[UK, EU] 4 – 8 weeks
[SEA] 2 – 4 weeks
[Others] 4- 10 weeks
‣We will not be liable for any lost/missing mail once the mail has left our hands, as this is out of our control. Please contact your Local Mail if this does happen! We do not replace or resend.
‣Shipping fees are dependent on handling, packaging and shipping costs. We try our best to keep our costs low and our shipping safe.
International Mail
‣International tracked mail does not come with insurance! Please check and work with your local post if the item has already been delivered but was not received!
Local Mail
‣Local tracked mail will take additional time to process! Please keep that in mind when placing an order!
‣ Shipping times are usually weekly every Friday – Sunday, on occasion may be subjected to schedule change that will be updated on IG story/ Twitter.
Reduced Packaging Materials
We try our best to reuse packaging materials from our suppliers to reduce waste! Most of our supplies tend to send us ready packed items in OPP bags. To avoid anymore use of NEW packing materials, we will try out best to reuse them if they are in good condition!
Alternatively, we try our best to source for the most eco-friendly method of packaging, as well as reduce the use of plastics and paper when we can! Hence, most of our packages are basic and wrapped with minimum plastics when possible!
Combining Orders
Due to how messy it is to handle separate orders on the back end, we are unable to combine or add on additional items to already placed orders now! Please place a separate order instead! Sorry for the inconvenience and thank you for your understanding!
Pre-Orders
Please note that if you check out other items together with a pre-order, your order will only be sent once the pre-order is ready to be shipped out.
If you would like the available items shipped earlier, please place two separate orders so that you are paying for separate shipping charges!
Please read our Pre-order information page for more details!
---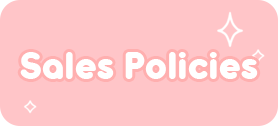 ‣Please note that All sales are Final and we do not issue refunds once your order has been placed!
‣Please understand that I am running a very small business! So I always try my best to make sure the items are in good condition before sending them out! Despite this, there still may be one or two minor defects that I may miss out.
If you believe your item has been damaged through shipping and mishandling during the delivery process, I unfortunately am unable to do much about this. :c But do email me with a picture immediately after unpacking and I can see what I can do about it!
‣If you believe there has been an error with your order, please contact us with a clear description and a photo/video of the newly opened packaging to Labutori@gmail.com. However, we do not allow returns or exchange! Please understand this is due to the logistic costs that my small shop will not be able to handle.
‣My Fanart designs and merchandise are in no way associated with their respectively owned companies, they are Doujinshi/fan merchandise. I do not claim the rights to their designs in any way, only my own artwork.
If you have any further questions, please feel free to send an email to Labutori@gmail.com
Thank you for your support and understanding!
‣ We would love to work with you on wholesale enquiries! All items are subjected to stock availability or a 10 – 12 weeks lead time! Please drop us an email at Labutori@gmail.com to discuss further if you are interested in reaching out to us about wholesale opportunities!
Advantages
‣You will be able to receive a discounted rate! (Quantity of products required for this discount is subjected to our discretion.)
‣Have a labutori product idea? We may be able to make it with your help! We are always open to discussion and collaborations! 🙂
‣Receive our stock first!
Limited quantity stock will be set aside for you!